Adult Dog
Iberian Pork
Wet food
Complete food
100% Natural
Adult dog
100% Fresh meat
Grain free
El plato perfecto de cerdo, este alimento hipoalergénico ,libre de granos para perros, es nutricionalmente completo y está elaborado con el cerdo 100% iberico más fresco, cocinado lentamente en nuestra propia cocina.
Agregamos algunos superalimentos muy especiales a la receta que inluyen deliciosas zanahorias, arándanos picantes, linazas ricas en ácidos grasos, laurel saludable, cuchillas y cúrcuma. Para mantener a tu compañero canino en perfecto estado, también añadimos vitaminas A, D y E, además de minerales quelados para mejorar la absorción de los nutrientes, y glucosamina y condroitina para ayudar a mantener la flexibilidad y movilidad en sus articulaciones. Deliciosa y nutritiva, es la receta perfecta para un amigo de cuatro patas más sano y feliz.
Adult Iberian Pork
Fresh Iberian Pork
Perfectly porky, this grain-free hypoallergenic dog food is nutritionally complete and packed with the freshest 100% Iberian pork, slow-cooked in our own kitchen.
We add some very special superfoods to the recipe too, including tasty carrots, tangy cranberries, fatty acid rich flaxseeds, and healthy laurel, cleavers and turmeric. To keep your canine companion in tip-top condition, we also include vitamins A, D and E, plus chelated minerals to improve their absorption of nutrients, and glucosamine and chondroitin to help their joints keep flexible and mobile. Delicious and nutritious, it's the perfect recipe for a healthier, happier four-legged friend.
COMPOSITION: fresh Iberian pork 68%, carrots 2.20%, blueberries 2%, minerals, flax seeds (natural source of ω3 fatty acids) 0.03%, glucosamine 300 mg/kg, inulin (source of FOS) 0.02% , hydrolyzed yeast cell wall (source of MOS) 0.02%, chondroitin 215 mg/kg, laurel 100 mg/kg, clove, turmeric 100 mg/kg.
ANALYTICAL COMPONENTS crude protein 11%, crude fat 4.50%, crude fiber 1%, crude ash 1.50%, moisture 80%. Metabolizable energy 87 kcal/100 g.
ADDITIVES: Nutritional additives: vitamin D3 225 IU/kg, vitamin E 20 mg/kg, manganese (manganese amino acid chelate, hydrated) 0.50 mg/kg, iodine (potassium iodide) 0.25 mg/kg. Made in the EU. Batch number, preferably use before, manufacturer's authorization number and net weight are printed on the packaging. Store in a cool, dry place. Once opened, keep in the refrigerator for a maximum of 24 hours. Dogs must always have clean, fresh water available.
Ingredientes Especiales
Delicious meat rich in protein, potassium, phosphorus, zinc and iron.
Rich in flavonoids that act as antioxidants and help protect cell tissue.
Its non-stick properties prevent the adhesion of bacteria and other microorganisms to the surface of the urinary system, facilitating their elimination through urine.
Excellent natural diuretic, favors the elimination of toxins through urine.
Analgesic and anti-inflammatory, it is a great food additive for pets suffering from chronic inflammation, ailments and diseases that cause pain.
Beneficios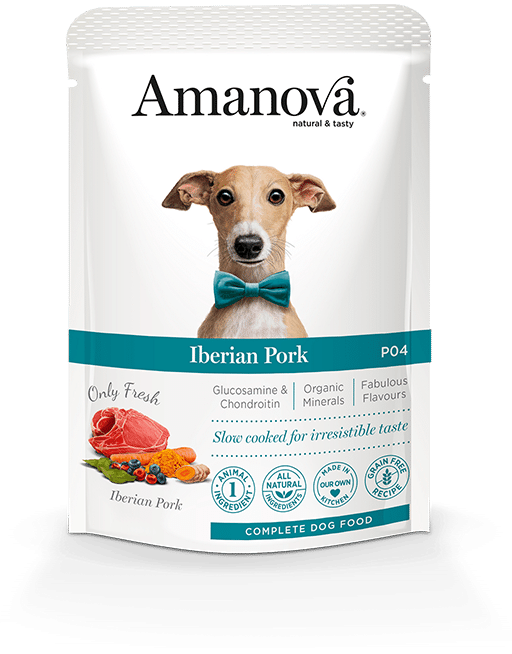 Adult Dog
Iberian Pork
Racionamiento
Adult Dog
Iberian Pork
Selecciona el peso de tu mascota:
Cantidad diaria recomendada:
Cantidad diaria recomendada:

{amount}

(g/día)
(g/dia)