PUPPY MINI - CHICKEN & RICE
Small dogs have a short but very intense growth phase. This is the reason why Optimanova Puppy Mini Chicken & Rice is specially formulated to meet their nutritional needs and boost their immune system, stimulating the production of antibodies. The size of the kibbles, specially intended for small jaws, the excellent flavour and the inclusion of high queality fresh meat, makes this recibe the ideal choice for the pickiest of puppies.
COMPOSITION: Fresh chicken (35 %), Dehydrated chicken (25%), Rice (15%), Oils and fats, Hydrolised chicken liver (5%), Rice protein, Yeast (3 %), Beet pulp, Monocalcium phosphate, Sodium chloride, Potassium chloride, Inulin (500 mg/kg-FOS), Mannan-oligosaccharides (130 mg/kg), Sodium, Hexametaphosphate, Yucca schidigera.
ANALYTICAL CONSTITUENTS: Crude protein 30,00%, Crude oils and fats 20,00%, EPA + DHA 830 mg/kg, Crude fibres 1,85%, Crude Ash 8,00%, Calcium 1,50%, Phosphorus 1,20 %.
ADDITIVES: Vitamin A 20.000 IU/kg. Vitamin D3 2.000 IU/kg. Vitamin E 450 mg/kg. Vitamin C 150 mg/kg. Biotin 4,6 mg/kg. Iron (Ferrous sulphate, monohydrate) 68 mg/kg. Iodine (Potassium iodide) 3,2 mg/kg. Copper (Cupric sulphate, pentahydrate) 9 mg/kg. Manganese (Manganous sulphate, monohydrate) 6,8 mg/kg. Zinc (zinc oxide) 135 mg/kg. Selenium (Sodium selenite) 0,1 mg/kg. Taurine 30 mg/kg.
TECHNOLOGICAL: Antioxidants: natural extracts rich in tocopherols.
Beneficios
Digestive Health System
The prebiotic effect of FOS stimulates the beneficial bacterial flora of the digestive system (bifidus effect). MOS eliminate harmful flora, achieving better digestive health.
Natural Defense System
The extra contribution of Zinc, Vitamin A and biotin contribute to the proper functioning of the immune system, maintaining the health of the hair, the skin and the pulmonary and intestinal mucous membranes.
Boost Energy Density
The carnitine content stimulates the combustion of fats providing greater efficiency of energy metabolism.
High Palatability
The high quality and freshness of the ingredients, together with an excellent combination of oils and chicken meat, achieve maximum appetite, stimulating food consumption.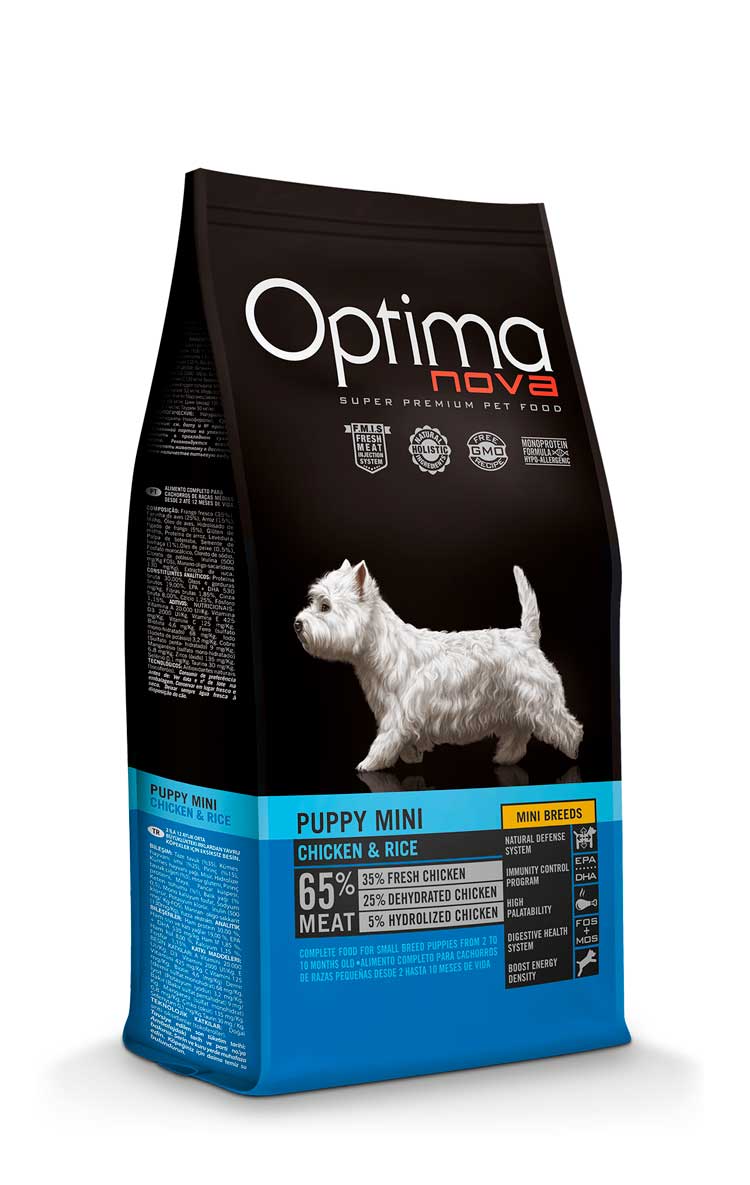 Puppy Mini
Chicken & Rice
Racionamiento
Puppy Mini
Chicken & Rice
Selecciona el peso de tu mascota:
Cantidad diaria recomendada:
Cantidad diaria recomendada:

{amount}

(g/día)
(g/día)
COMPARATIVA
Principales Beneficios

Puppy Mini

Chicken & Rice