PUPPY MINI SENSITIVE - SALMÓN & POTATO
Optimanova's Adult Sensitive Salmon & Potato is perfect for any breed, especially suitable for puppies that develop sensitive skin or digestion problems when they are born. Salmon, as a single source of protein avoids possible allergies or food intolerances. The combination of zinc, vitamin A and biotin, as well as Omega-3 and Omega-6 fatty acids, contributes to the beauty and health of the skin, hair and mucous membrane. The ginger stimulates the production of digestive enzymes, allowing the easy absorption of nutrients.
COMPOSITION: Fresh Salmon (40%), Dehydrated Salmon (25%), Potato (20%), Potato protein, Oils and fats (fish oil 0.2%), Hydrolysed salmon (5%), Yeast (4%), Beet pulp, Linseed (1%), Monocalcium phosphate, Sodium chloride, Potassium chloride, Inulin (FOS 1.000 mg/kg), Ginger (1000 mg/kg), Mannan-oligosaccharides (260 mg/kg), Yucca schidigera.
ANALYTICAL CONSTITUENTS: Crude protein 29,00%, Crude oil and fats 22,00%, EPA + DHA 2.400 mg/kg, Crude fibres 2,70 %, Crude Ash 8,00%, Calcium 1,20%, Phosphorus 1,05%.
ADDITIVES: Nutritional: Vitamin A 20.000 IU/kg. Vitamin D3 2.000 IU/kg. Vitamin E 425 mg/kg. Vitamin C 125 mg/kg. Biotin 4,6 mg/kg. Iron (Ferrous sulphate, monohydrate) 68 mg/kg. Iodine (Potassium iodide) 3,2 mg/kg. Copper (Cupric sulphate, pentahydrate) 9 mg/kg. Manganese (Manganous sulphate, monohydrate) 6,8 mg/kg. Zinc (zinc oxide) 135 mg/kg. Selenium (Sodium selenite) 0,1 mg/kg. Taurine 30 mg/kg.
TECHNOLOGICAL: Antioxidants: natural extracts rich in tocopherols.
Beneficios
Digestive Health System
El efecto prebiótico del FOS, estimula la flora bacteriana beneficiosa del sistema digestivo (efecto bífidus). Los MOS eliminan la flora perjudicial, logrando una mejor salud digestiva.
Skin & Coat
La presencia del Zinc ayuda a la regeneración de la piel, manteniéndola en un estado sano y vigoroso. Los ácidos grasos la fortalecen y consiguen un pelo fuerte y brillante.
Gastric Protection
La mezcla especial de los ingredientes provocan una digestión rápida con el mínimo desgaste en el estómago.
Instestinal Protection
La acción protectora de la L-glutamina sobre las células de la mucosa intestinal, unida a la acción estimulante de la producción de enzimas digestivas del jengibre facilitan de una manera extraordinaria la digestión de los nutrientes.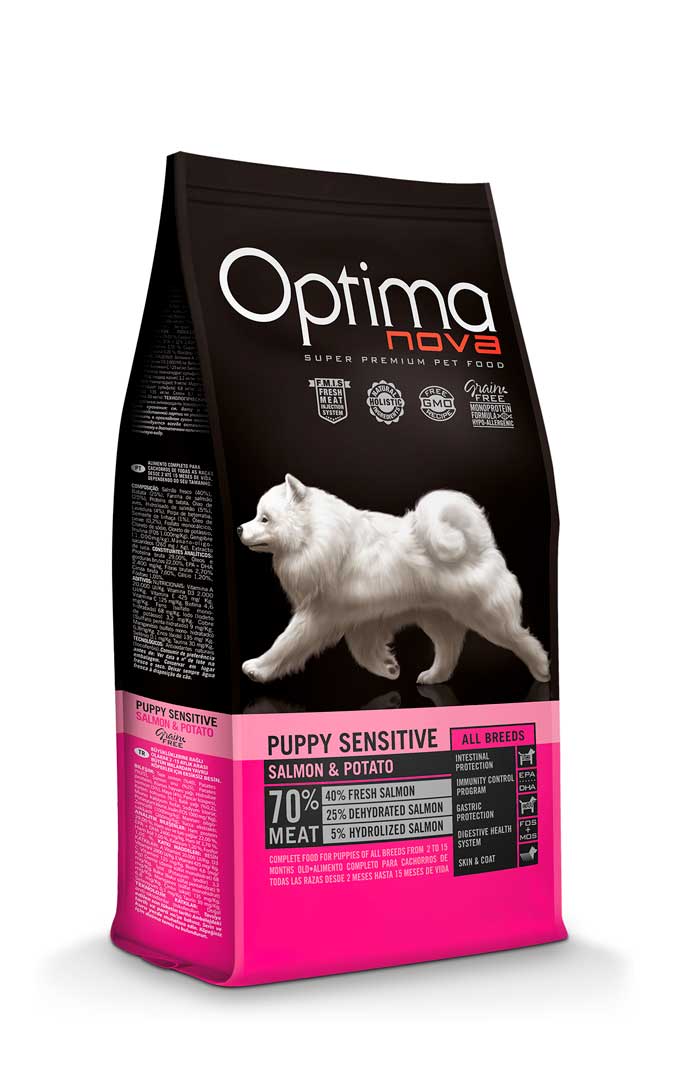 Puppy Sensitive
Salmon & Potato
Racionamiento
Puppy Sensitive
Salmon & Potato
Selecciona el peso de tu mascota:
Cantidad diaria recomendada:
Cantidad diaria recomendada:

{amount}

(g/día)
(g/día)
COMPARATIVA
Principales Beneficios

Puppy Sensitive

Salmon & Potato