PUPPY MINI SENSITIVE - SALMÓN & POTATO
Optimanova's Adult Sensitive Salmon & Potato is perfect for any breed, especially suitable for puppies that develop sensitive skin or digestion problems when they are born. Salmon, as a single source of protein avoids possible allergies or food intolerances. The combination of zinc, vitamin A and biotin, as well as Omega-3 and Omega-6 fatty acids, contributes to the beauty and health of the skin, hair and mucous membrane. The ginger stimulates the production of digestive enzymes, allowing the easy absorption of nutrients.
COMPOSITION: Fresh Salmon (40%), Dehydrated Salmon (25%), Potato (20%), Potato protein, Oils and fats (fish oil 0.2%), Hydrolysed salmon (5%), Yeast (4%), Beet pulp, Linseed (1%), Monocalcium phosphate, Sodium chloride, Potassium chloride, Inulin (FOS 1.000 mg/kg), Ginger (1000 mg/kg), Mannan-oligosaccharides (260 mg/kg), Yucca schidigera.
ANALYTICAL CONSTITUENTS: Crude protein 29,00%, Crude oil and fats 22,00%, EPA + DHA 2.400 mg/kg, Crude fibres 2,70 %, Crude Ash 8,00%, Calcium 1,20%, Phosphorus 1,05%.
ADDITIVES: Nutritional: Vitamin A 20.000 IU/kg. Vitamin D3 2.000 IU/kg. Vitamin E 425 mg/kg. Vitamin C 125 mg/kg. Biotin 4,6 mg/kg. Iron (Ferrous sulphate, monohydrate) 68 mg/kg. Iodine (Potassium iodide) 3,2 mg/kg. Copper (Cupric sulphate, pentahydrate) 9 mg/kg. Manganese (Manganous sulphate, monohydrate) 6,8 mg/kg. Zinc (zinc oxide) 135 mg/kg. Selenium (Sodium selenite) 0,1 mg/kg. Taurine 30 mg/kg.
TECHNOLOGICAL: Antioxidants: natural extracts rich in tocopherols.
Beneficios
Digestive Health System
The prebiotic effect of FOS stimulates the beneficial bacterial flora of the digestive system (bifidus effect). MOS eliminate harmful flora, achieving better digestive health.
Skin & Coat
The presence of Zinc helps skin regeneration, keeping it in a healthy and vigorous state. The fatty acids strengthen it and achieve strong and shiny hair.
Gastric Protection
The special blend of ingredients causes rapid digestion with minimal wear and tear on the stomach.
Instestinal Protection
The protective action of L-glutamine on the cells of the intestinal mucosa, together with the stimulating action of the production of digestive enzymes of ginger, facilitate the digestion of nutrients in an extraordinary way.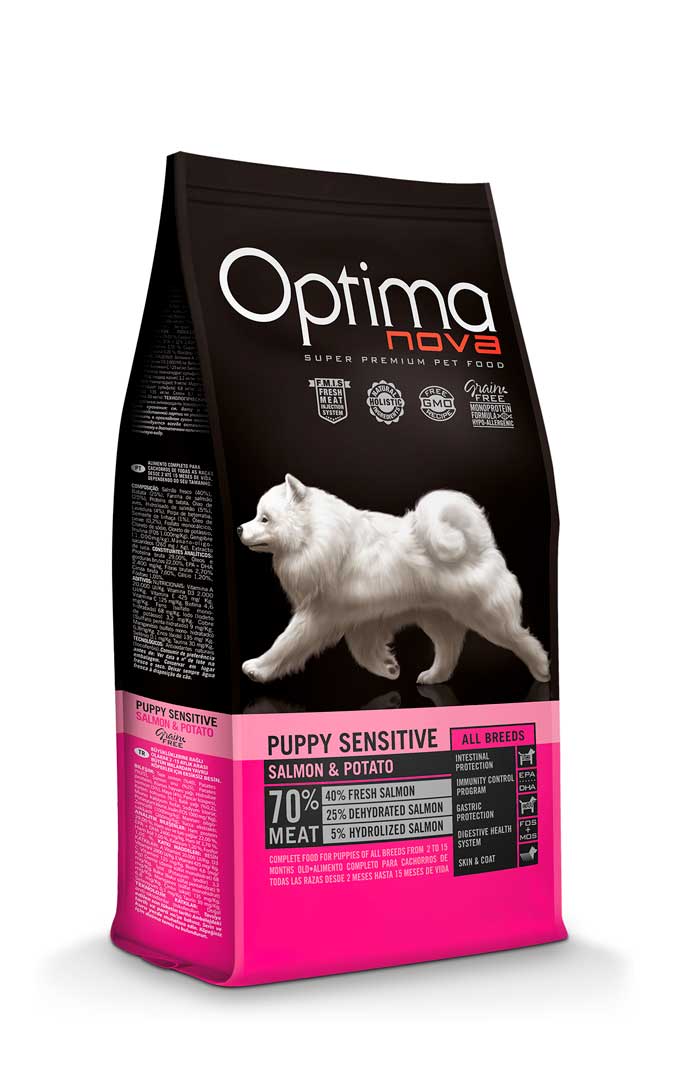 Puppy Sensitive
Salmon & Potato
Racionamiento
Puppy Sensitive
Salmon & Potato
Selecciona el peso de tu mascota:
Cantidad diaria recomendada:
Cantidad diaria recomendada:

{amount}

(g/día)
(g/día)
COMPARATIVA
Principales Beneficios

Puppy Sensitive

Salmon & Potato