CAT MATURE - CHICKEN & RICE
Older cats move at a different pace, and so they need the right kind of food that will take care of them and keep them healthy and strong. Optimanova Cat Mature Chicken & Rice is the ideal food for cats aged 7 and over, because its excellent combination of minerals protects its skin and hair and also helps to prevent the formation of stones and other illnesses of the urinary tract.
COMPOSITION: Fresh chicken (40 %), corn, dehydrated poultry meat (30%), rice (15%), corn gluten, chicken oil, yeast, rice protein, hydrolysed chicken liver 5%, beetroot pulp, fish oil, fish, dehydrated whole egg, salt, sodium polyphosphates, inuline (source of fructo-oligosaccharides) (0.1 %), mannanooligosaccharides (0.1 %), bioflavonoid-rich citrus extracts, potassium chloride, cassava extract, glucosamine, chondroitin.
ANALYTICAL CONSTITUENTS: Crude protein 30.5 %, oils and crude fats 13 %, omega fatty acids 6: 2.7 %, omega fatty acids 3: 0.5 %, crude fibre 2.7 %, total dietary fibre 8 %, crude ash 6.7 %, calcium 1.2 %, phosphorus 1 %, moisture 9 %.
ADDITIVES: Vitamin A 20,000 UI/mg. Vitamin D3 1,600 UI/mg. Vitamin E 750 mg/kg. Vitamin C 70 mg/kg. L-taurine 1,000 mg/kg. L-carnitine 75 mg/kg. DL-methionine 800 mg/kg. Iron (sulphate monohydrate) 225 mg/kg. Iodine (potassium iodide) 3.6 mg/kg. Cobalt (sulphate heptahydrate): 1.20 mg/kg. Copper (sulphate pentahydrate) 12 mg/kg. Manganese (sulphate monohydrate) 12 mg/kg. Zinc (oxide) 170 mg/kg. Selenium (sodium selenite) 0.52 mg/kg.
TECHNOLOGICAL: Protected with natural antioxidants (tocopherols) with an anti-aging effect that eliminate free radicals (which encourage tumour activity).
Beneficios
Omega 3 & Omega 6
Protects the immune system from numerous diseases, helps develop cardiovascular health and the nervous system during pregnancy and growth. Prevents hair from looking dry and brittle.
Skin and coat protection
The presence of Zinc helps skin regeneration, keeping it in a healthy and vigorous state. The fatty acids strengthen it and achieve strong and shiny hair.
FOS+MOS intestinal health
The prebiotic effect of FOS stimulates the beneficial bacterial flora of the digestive system (bifidus effect). MOS eliminate harmful flora, achieving better digestive health.
Urinary care
The excellent combination of minerals reduces the deposit of urinary calculi, in addition to stimulating the dissolution of salts, which will keep the urinary system of cats in good condition.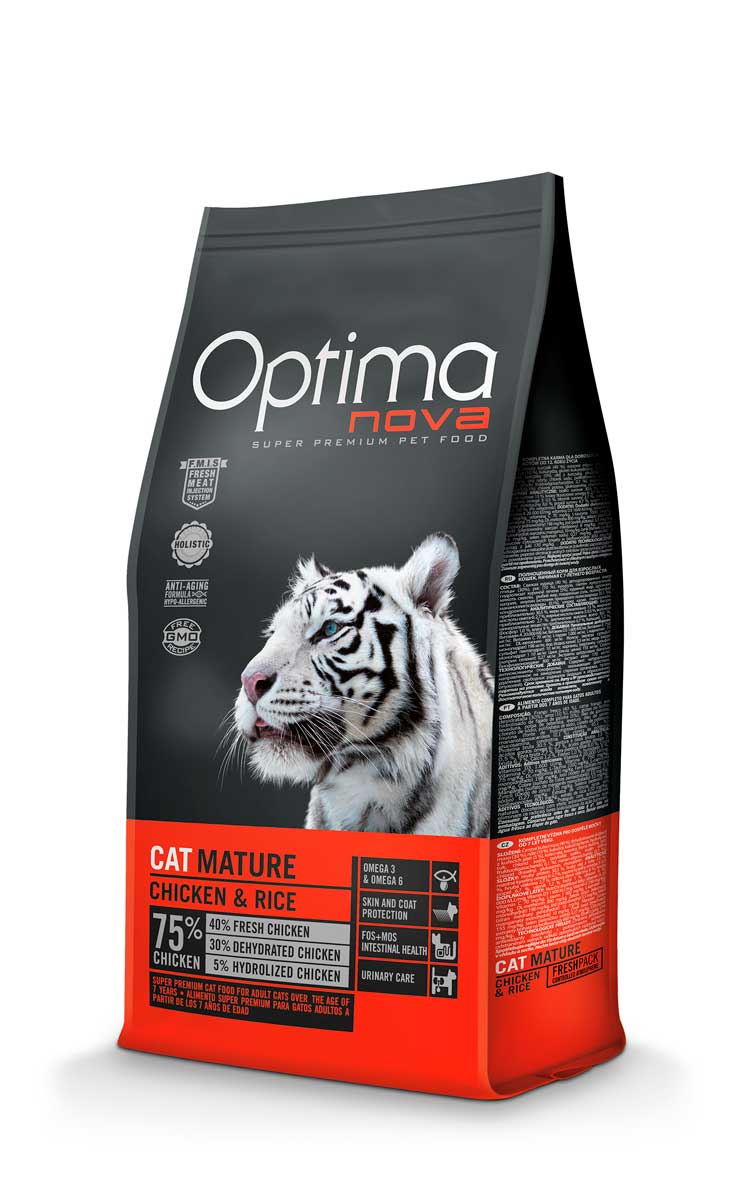 Cat Mature
Chicken & Rice
Racionamiento
Cat Mature
Chicken & Rice
Selecciona el peso de tu mascota:
Cantidad diaria recomendada:
Cantidad diaria recomendada:

{amount}

(g/día)
(g/día)
COMPARATIVA
Principales Beneficios

Cat Mature

Chicken & Rice