CAT EXQUISITE - CHICKEN & RICE
Optimanova Cat Exquisite Chicken & Rice is a recipe that has been specially formulated to satisfy the fussiest felines.. Its perfect combination of fresh chicken meat and oils of the highest quality will ensure that your cat always has a healthy appetite, while at the same time keeping its digestive system healthy and enhancing your cats beauty.
COMPOSITION: Fresh chicken (40%), dehydrated chicken meat (30%), rice (12 %), Maize, chicken oil, hydrolysed chicken liver (5%), rice protein, beetroot pulp, cellulose, yeast, fish oil, sodium chloride, potato protein, sodium polyphosphates, Inuline (0,1%, source of fructooligosaccharides), Manano-oligosaccharides (0.1%), potassium chloride.
ANALYTICAL CONSTITUENTS: Crude protein 33 %, crude oils and fats 15 %, omega 6 fatty acids: 2.5 %, omega 3 fatty acids: 0.5 %, crude fibres 3.0 %, total dietary fibre 7.0 %, crude ash 7.0 %, Calcium 1.1 %, Phosphorus 0.9 %, moisture 9.0%.
ADDITIVES: Nutritional Additives: Vitamin A 20.000 UI/Kg, Vitamin D3 1.500 UI/Kg, Vitamin E 600 mg/kg, Vitamin C 75 mg/kg, L-Taurine 2.100 mg/Kg, DL-methionine 1.000 mg/Kg. Iron (Ferrous sulphate monohydrate) 150 mg/Kg, Iodine (Potassium Iodide) 3.0 mg/Kg, Copper (Cupric Sulphate Pentahydrate) 8 mg/Kg, Manganese (Manganous Sulphate Monohydrate) 8 mg/kg. Zinc (Zinc Oxide) 120 mg/Kg. Selenium (Sodium Selenite) 0.18 mg/Kg. Yucca extract 170 mg/Kg, Citric extracts rich in bioflavonoids 900 mg/Kg.
TECHNOLOGICAL: Protected with natural antioxidants (tocopherols) with antiaging effect that eliminates free radicals (that may motivate the formation of tumours)
Beneficios
Omega 3 & Omega 6
Protege al sistema inmunológico de numerosas enfermedades, ayuda a desarrollar la salud cardiovascular y el sistema nervioso durante la gestación y crecimiento. Evita que el pelo tenga un aspecto seco y quebradizo.
Skin and coat protection
La presencia del Zinc ayuda a la regeneración de la piel, manteniéndola en un estado sano y vigoroso. Los ácidos grasos la fortalecen y consiguen un pelo fuerte y brillante.
FOS+MOS intestinal health
El efecto prebiótico del FOS, estimula la flora bacteriana beneficiosa del sistema digestivo (efecto bífidus). Los MOS eliminan la flora perjudicial, logrando una mejor salud digestiva.
High palatability
La elevada calidad y frescura de los ingredientes, junto a una excelente combinación de aceites, carnes y extractos consiguen una máxima apetencia estimulando el consumo de nuestro alimento.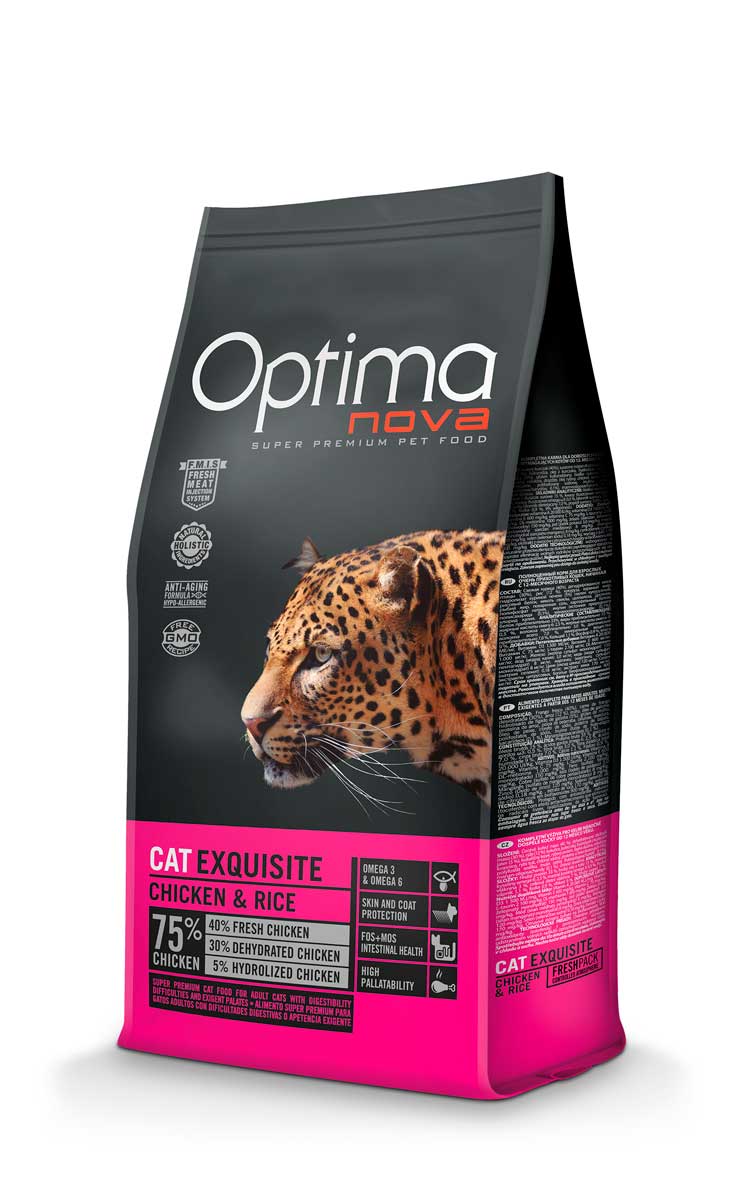 Cat Exquisite
Chicken & Rice
Racionamiento
Cat Exquisite
Chicken & Rice
Selecciona el peso de tu mascota:
Cantidad diaria recomendada:
Cantidad diaria recomendada:

{amount}

(g/día)
(g/día)
COMPARATIVA
Principales Beneficios

Cat Exquisite

Chicken & Rice