CAT ADULT - RABBIT & POTATO
It is the only product on the market in this category made from fresh rabbit meat. easy to digest, tasty and low in calories, cholesterol and fats, it also contains important minerals such as iron, magnesium and zinc. its omega-3 helps to keep his skin healthy and his coat shiny and strong.
COMPOSITION: Fresh rabbit meat (40%). Rabbit meat meal(30%). potato (14%). Hydrolysed rabbit meat (5%). Potato protein. Oils and fats. Yeast. Beet pulp. Carob flour. Vegetable fibres. Potassium chloride. Sodium chloride. Sodium polyphosphates. Inulin (0.1% Fructooligosaccharides). Mannan-oligosaccharides (0.1%).
ANALYTICAL CONSTITUENTS: Crude protein 31.00 %. Crude oils and fats 17.50%. Omega 6 fatty acids: 2.80 %. Omega 3 fatty acids: 0.47%. Crude fibres 3.50%. Total dietary fibre 6.50%. Crude ash 7.50%. Calcium 1.10%. Phosphorous 1.00%.
ADDITIVES: Vitamin A 18,000 IU/Kg. Vitamin D3 1,600 IU/kg. Vitamin E 750 mg/kg. Vitamin C 75 mg/kg. Iron (ferrous sulphate monohydrate) 75 mg/kg. Iodine (Potassium iodide) 3.5 mg/kg. Copper (Cupric sulphate pentahydrate)10 mg/kg Manganese (Manganous sulphate monohydrate) 7.5 mg/kg Zinc (zinc oxide) 150 mg/kg, Selenium (Sodium selenite) 0.15 mg/kg. Yucca extract 170 mg/Kg. DL-methionine 1,000 mg/kg. Taurine 950 mg/kg. Citric extracts 1,000 mg/kg.
TECHNOLOGICAL: ANTIOXIDANTS: Natural extracts rich in tocopherols.
Beneficios
High digestibility
The high digestibility of the nutrients allow their maximum absorption, making the most of their nutritional elements and stimulating intestinal health.
Omega 3 & Omega 6
Protects the immune system from numerous diseases, helps develop cardiovascular health and the nervous system during pregnancy and growth. Prevents hair from looking dry and brittle.
Skin and coat protection
The presence of Zinc helps skin regeneration, keeping it in a healthy and vigorous state. The fatty acids strengthen it and achieve strong and shiny hair.
FOS+MOS intestinal health
The prebiotic effect of FOS stimulates the beneficial bacterial flora of the digestive system (bifidus effect). MOS eliminate harmful flora, achieving better digestive health.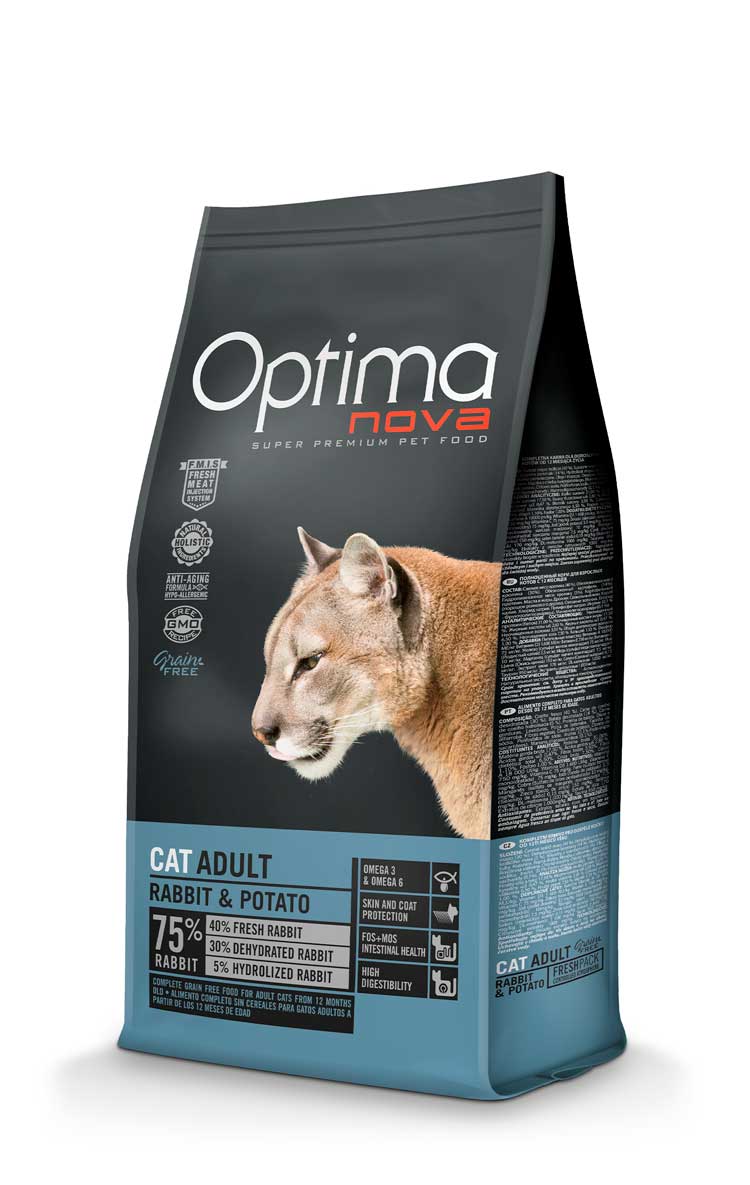 Cat Adult
Rabbit & Potato
Racionamiento
Cat Adult
Rabbit & Potato
Selecciona el peso de tu mascota:
Cantidad diaria recomendada:
Cantidad diaria recomendada:

{amount}

(g/día)
(g/día)
COMPARATIVA
Principales Beneficios

Cat Adult

Rabbit & Potato