ADULT OBESITY - CHICKEN & RICE
Excess weight jeopardizes the health and can shorten the life expectancy of dogs. If your pet has a tendency to put on weight problems, it must follow a balanced diet that does not provide more calories that it needs. Our special formula releases energy in a controlled manner, while the starch content gives a sensation of fullness by keeping the levels of glucose and cholesterol in the blood constant. It also contains L-carnitine which speeds up the burning of fat and helps to keep your pet´s muscles in top condition.
COMPOSITION:Fresh chicken (35%), Dehydrated Chicken (25%), Rice (10%), Hydrolysed chicken liver (5%), Oils and fats, Beet pulp, Vegetables fibers, Yeast, Linseed, Sodium chloride, Potassium chloride, Inulin (500 mg/Kg FOS), Manan-oligosaccharides (130 mg/Kg), Yucca schidigera.
ANALYTICAL CONSTITUENTS:Crude protein 34,00%, Crude oils and fats 9,00%, EPA + DHA 1.400 mg/kg, Crude fibres 8,50%, TDF (alimentary fiber) 17,50%, Crude Ash 8,00%, Calcium 1,15%, Phosphorus 0,85%, Metabolizable energy 3,150 Kcal/kg.
ADDITIVES:Vitamin A 18.000 IU/Kg. Vitamin D3 1.800 IU/Kg. Vitamin E 600 mg/Kg. Vitamin C 200 mg/Kg. Iron (Ferrous sulphate, monohydrate) 68 mg/Kg. Iodine (Potassium iodide) 3,2 mg/Kg. Copper (Cupric sulphate, pentahydrate) 9 mg/Kg. Manganese (Manganous sulphate, monohydrate) 6,8 mg/Kg. Zinc (zinc oxide) 135 mg/Kg. Selenium (Sodium selenite) 0,1 mg/Kg. Taurine 770 mg/Kg. L-carnitine 270 mg/Kg.
TECHNOLOGICAL:Antioxidants: natural extracts rich in tocopherols.
Beneficios
Calorie Reduction
The low energy density of the food decreases the feeling of appetite and prevents excessive intake of fat.
Digestive Health System
The prebiotic effect of FOS stimulates the beneficial bacterial flora of the digestive system (bifidus effect). MOS eliminate harmful flora, achieving better digestive health.
Fat Burning System
The extra supply of L-Carnitine helps to metabolize fats while the high protein content helps maintain muscle mass.
Satiating Effect
The use of starch resistant to digestive hydrolysis allows to maintain constant blood glucose and cholesterol levels. The contribution of energy in a controlled way contributes to the feeling of satiety.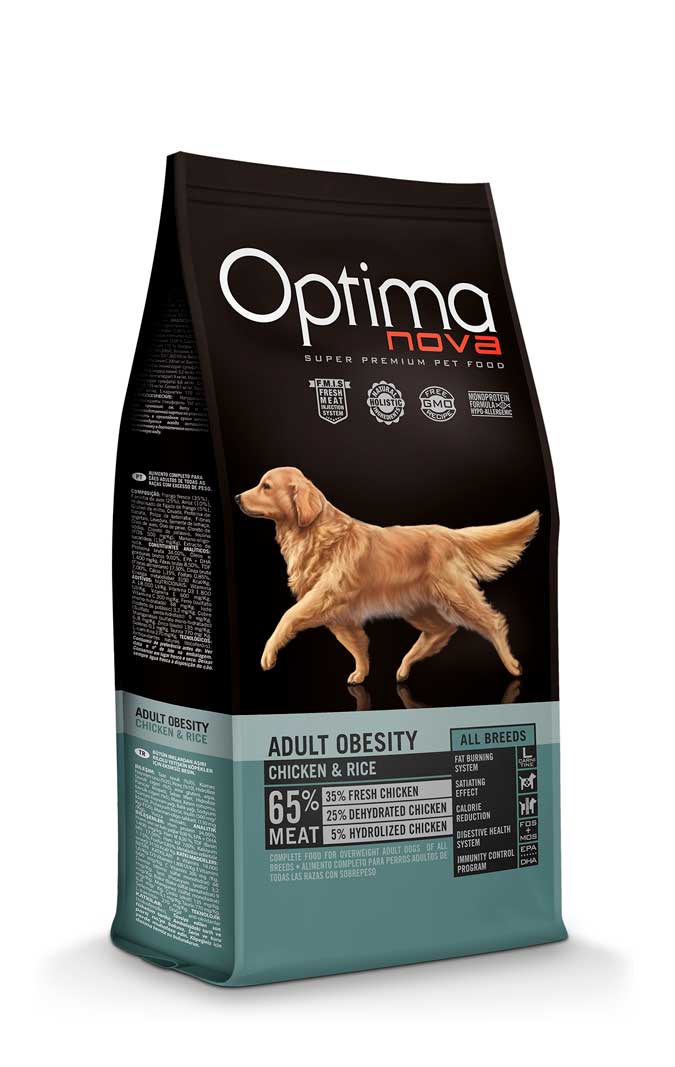 Adult Obesity
Chicken & Rice
Racionamiento
Adult Obesity
Chicken & Rice
Selecciona el peso de tu mascota:
Cantidad diaria recomendada:
Cantidad diaria recomendada:

{amount}

(g/día)
(g/día)
COMPARATIVA
Principales Beneficios

Adult Obesity

Chicken & Rice