ADULT MINI CHICKEN & POTATO
At 10 months old, your small breed dog reaches maturity and needs a balanced diet for this new stage of life. Optimanova Adult Mini Chicken & Potato will help to maintain your dog´s ideal weight thanks to an optimal supply of calories and proteins, especially designed to match it´s characteristics. Contains vitamins and amino acids that protects skin and boost the immune system. The special, highly appetizing formula and the kibbles with a structure specifically suited to small jaws, makes this the ideal recipe for the fussiest palates.
COMPOSITION: Fresh chicken (40%), Dehydrated Chicken (25%), Potato (15%), Potato protein, Peas, Oils and fats, Hydrolysed chicken liver (5%), Yeast, Beet pulp, Sodium polyphosphates, Potassium chloride, Sodium Chloride, Inulin (500 mg/kg-FOS), Ginger (500 mg/kg), Manano-oligosaccharides (130 mg/kg), Yucca schidigera.
ANALYTICAL CONSTITUENTS: Crude protein 27.00%, Crude oils and fats 17.00%, EPA+DHA 445 mg/kg, Crude fibres 2.50%, Crude ash 8.00%, Calcium 1.25%, Phosphorous 1.00%.
ADDITIVES: Vitamin A 18,000 IU/Kg. Vitamin D3 1,800 IU/Kg. Vitamin E 400 mg/kg. Vitamin C 125 mg/kg. Iron (ferrous sulphate monohydrate) 68 mg/kg. Iodine (Potassium iodide) 3.2 mg/kg. Copper (Cupric sulphate pentahydrate) 9 mg/kg. Manganese (manganous sulphate monohydrate) 6.8 mg/kg. Zinc (zinc oxide) 135 mg/kg. Selenium (sodium selenite) 0.1 mg/kg.
TECHNOLOGICAL: Antioxidants: natural extracts rich in tocopherols.
Beneficios
Digestive Health System
The prebiotic effect of FOS stimulates the beneficial bacterial flora of the digestive system (bifidus effect). MOS eliminate harmful flora, achieving better digestive health.
Skin & Coat
The presence of Zinc helps skin regeneration, keeping it in a healthy and vigorous state. The fatty acids strengthen it and achieve strong and shiny hair.
High Digestibility
The high digestibility of the nutrients allow their maximum absorption, making the most of their nutritional elements and stimulating intestinal health.
High Palatability
The high quality and freshness of the ingredients, together with an excellent combination of oils and chicken meat, achieve maximum appetite, stimulating food consumption.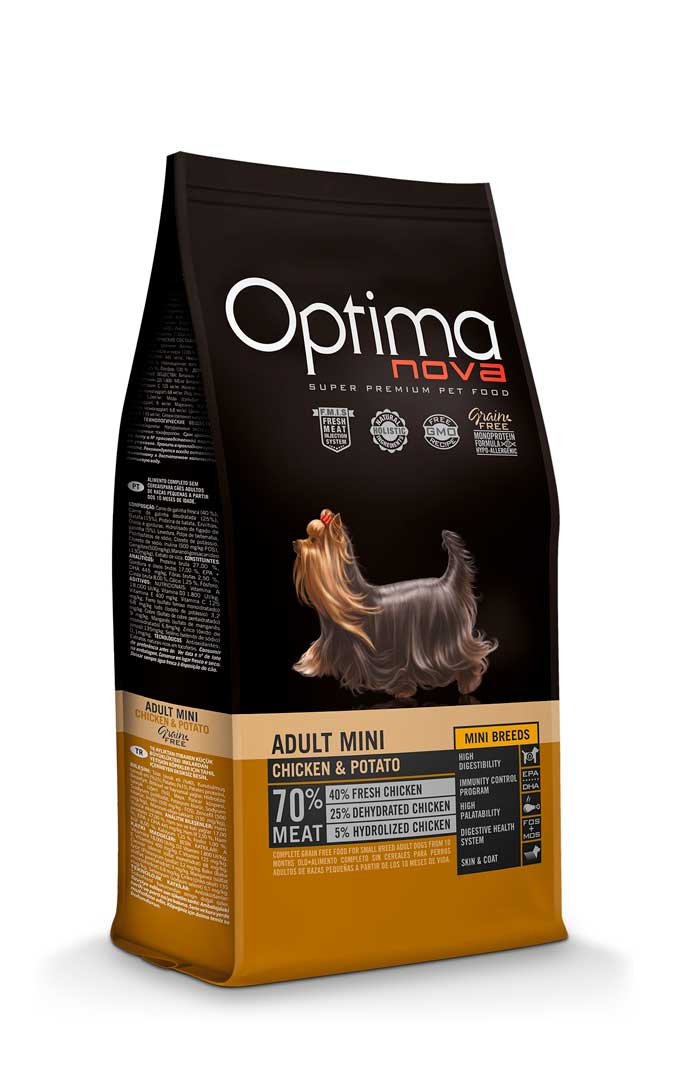 Adult Mini
Chicken & Potato
Racionamiento
Adult Mini
Chicken & Potato
Selecciona el peso de tu mascota:
Cantidad diaria recomendada:
Cantidad diaria recomendada:

{amount}

(g/día)
(g/día)
COMPARATIVA
Principales Beneficios

Adult Mini

Chicken & Potato