ADULT MEDIUM - CHICKEN & POTATO
In the first year of life, medium-sized breed dogs reach maturity and need a balanced diet that helps to adapt to this new stage life. Optimanova Adult Medium Chicken & Potato helps to maintain an ideal weight by releasing energy in a controlled way. It boosts the defences, protects the skin and coat and inlcudes natural anti-oxidants (tocopherols).
COMPOSITINN: Fresh chicken (40%), Dehydrated Chicken (25%), Potato (15%), Peas, Hydrolysed chicken liver (5%), Oils and fats, Yeast, Beet pulp, Potato protein, Sodium chloride, Sodium polyphosphate (0.3%), Potassium chloride, Inulin (500 mg/kg-FOS), Manano-oligosaccharides (130 mg/kg), Yucca schidigera.
ANALYTICAL CONSTITUENTS: Crude protein 26.00%, Crude oils and fats 16.00%, EPA + DHA 500 mg/kg, Crude fibres 2.75%, Crude ash 8.00%, Calcium 1.35%, Phosphorous 0.95%.
ADDITIVES: Vitamin A 18,000 IU/kg. Vitamin D3 1,800 IU/kg. Vitamin E 250 mg/kg. Vitamin C 100 mg/kg. Biotin 3.4 mg/kg. Iron (ferrous sulphate monohydrate) 68mg/kg. Iodine (Potassium iodide) 3.2 mg/kg. Copper (Cupric sulphate pentahydrate) 9 mg/kg. Manganese (manganous sulphate monohydrate) 6.8 mg/kg. Zinc (zinc oxide) 135mg/kg. Selenium (Sodium selenite) 0.1 mg/kg. L-carnitine 70 mg/kg. Taurine 30mg/kg.
TECHNOLOGICAL: Antioxidants: natural extracts rich in tocopherols.
Beneficios
Digestive Health System
The prebiotic effect of FOS stimulates the beneficial bacterial flora of the digestive system (bifidus effect). MOS eliminate harmful flora, achieving better digestive health.
Skin & Coat
The presence of Zinc helps skin regeneration, keeping it in a healthy and vigorous state. The fatty acids strengthen it and achieve strong and shiny hair.
Oralcare
The dietary fiber configuration combined with minerals (calcium/phosphorus) produce a "brushing effect" on the teeth. The formation of tartar and bacterial plaque that causes bad breath is reduced.
Natural Defense System
The extra contribution of Zinc, Vitamin A and biotin contribute to the proper functioning of the immune system, maintaining the health of the hair, the skin and the pulmonary and intestinal mucous membranes.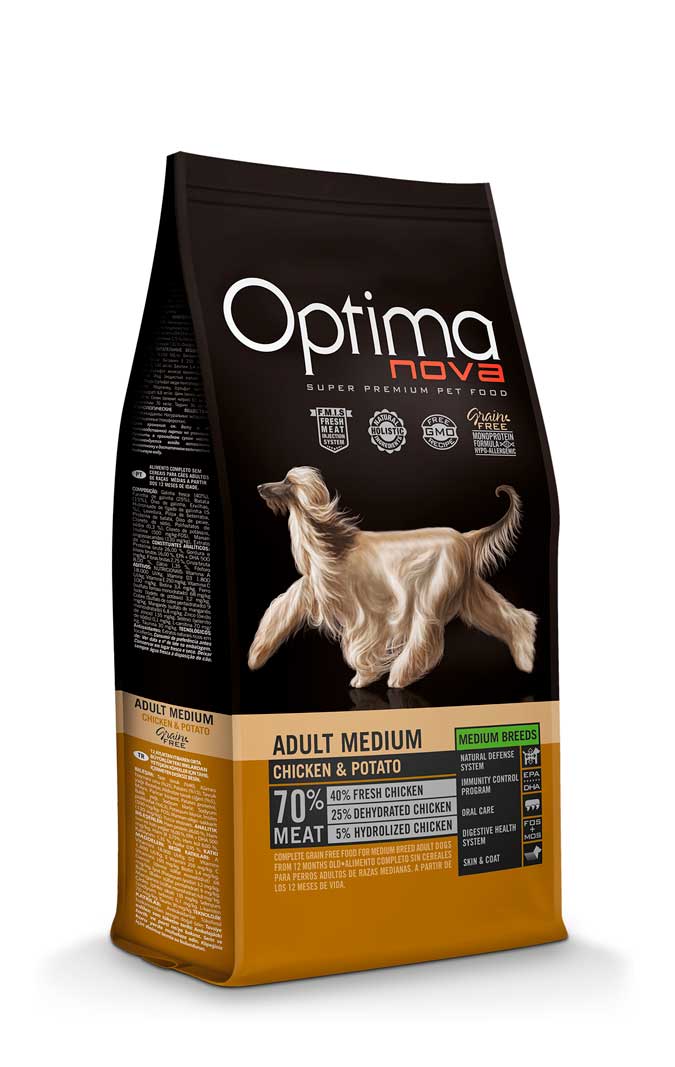 Adult Medium
Chicken & Potato
Racionamiento
Adult Medium
Chicken & Potato
Selecciona el peso de tu mascota:
Cantidad diaria recomendada:
Cantidad diaria recomendada:

{amount}

(g/día)
(g/día)
COMPARATIVA
Principales Beneficios

Adult Medium

Chicken & Potato