ADULT MATURE - CHICKEN & RICE
Optimanova Mature Adult Chicken & Rice is specially formulated to reinforce the immune system and joints in middle-aged or older dogs. Contains natural antioxidants (tocopherols) that protects the body from free radicals. Calcium , phosphorus and vitamin D for strong bones and muscles. Chondroitin and glucosamine keeps the cartilage tissue healthy avoiding osteoarthritis problems. Also promotes a healthy intestinal tract thanks to an optimun fiber content.
COMPOSITION: Fresh chicken (35%), Dehydrated Chicken (25%), Rice (15%), Oils and fats, Hydrolysed chicken liver (5%), Rice protein, Yeast, Beet pulp, Linseed, Cellulose, Sodium chloride, Potassium chloride, Inulin (500 mg/kg-FOS), Glucosamine (500 mg/kg), Manan-oligosaccharides (130 mg/kg), Yucca schidigera, Chondroitin (100 mg/kg).
ANALYTICAL CONSTITUENTS:Crude protein 25,00%, Crude oils and fats 15,00%, EPA+DHA 4.000 mg/kg, Crude fibres 4,00%, TDF (Dietary fiber) 13,00%, Crude Ash 7,00%, Calcium 1,10%, Phosphorus 0,80%
ADDITIVES:Vitamin A 18.000 IU/kg. Vitamin D3 1.800 IU/kg. Vitamin E 600 mg/kg. Vitamin C 200 mg/kg. Biotin 3,4 mg/kg. Iron (Ferrous sulphate, monohydrate) 68 mg/kg. Iodine (Potassium iodide) 3,2 mg/Kg. Copper (Cupric sulphate, pentahydrate) 9 mg/Kg. Manganese (Manganous sulphate, monohydrate) 6,8 mg/ Kg. Zinc (zinc oxide) 135 mg/Kg. Selenium (Sodium selenite) 0,1 mg/Kg. Taurine 1.500 mg/kg. L-carnitina 270 mg/kg.
TECHNOLOGICAL:Antioxidants: natural extracts rich in tocopherols (350 mg/kg).
Beneficios
Immunity Control Program:
Anti-cancer protection system, contributes to the development of the nervous system, strengthening the immune system and cardiovascular health.
Digestive Health System
The prebiotic effect of FOS stimulates the beneficial bacterial flora of the digestive system (bifidus effect). MOS eliminate harmful flora, achieving better digestive health.
Bone Protection
Bone formation and mineralization is intensified thanks to the content of vitamin D that regulates the levels of minerals in the blood, promoting their absorption, transport and deposit in the bones.
Anti-Aging Effect
The inclusion of the fatty acid EPA helps to delay the aging of cognitive function. The action of natural antioxidants (tocopherols) protect the body from the action of free radicals.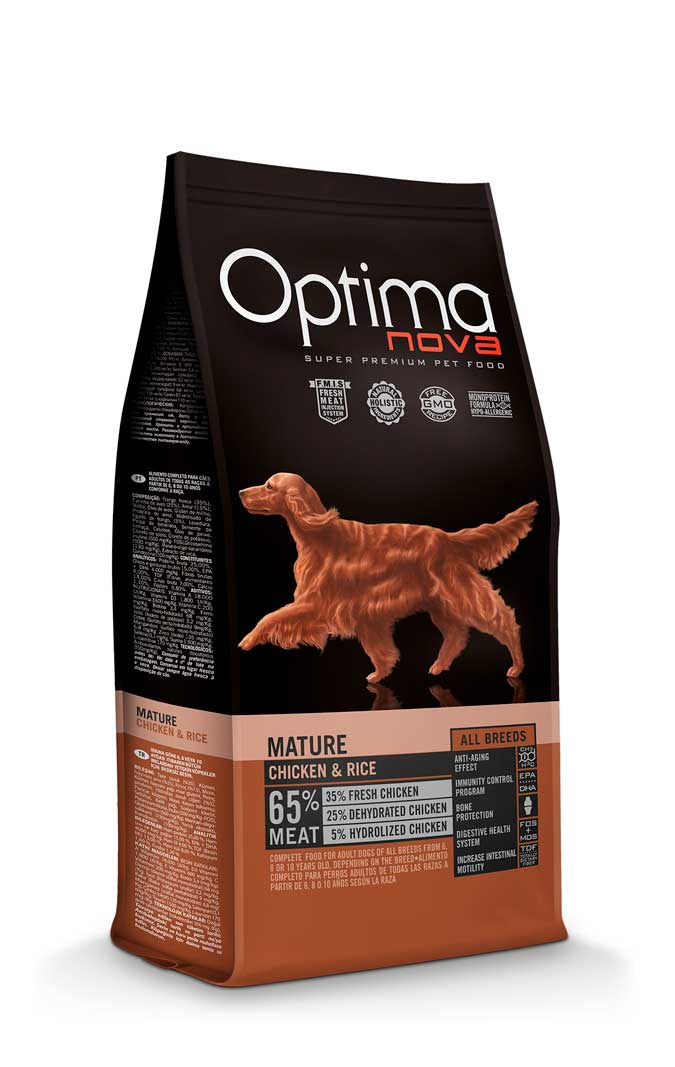 Adult Mature
Chicken & Rice
Racionamiento
Adult Mature
Chicken & Rice
Selecciona el peso de tu mascota:
Cantidad diaria recomendada:
Cantidad diaria recomendada:

{amount}

(g/día)
(g/día)
COMPARATIVA
Principales Beneficios

Adult Mature

Chicken & Rice