ADULT LARGE - CHICKEN & POTATO
Thanks to its content of glucosamine and chondroitin, Optimanova Adult Large Chicken & Potato is specially formulated to prevent premature damage to bones and joints to which large breeds are prone. Its optimum EPA and DHA content helps the digestive process and boosts the immune system, and also improves the consistency of stools thanks to its beet pulp content.
COMPOSITION: Fresh chicken (40%), Dehydrated Chicken (25%), Potato (15%), Peas, Hydrolysed chicken liver (5%), Potato protein, Oils and fats, Yeast, Beet pulp, Sodium chloride, Potassium Chloride, Inulin (500 mg/kg-FOS), Glucosamine (350 mg/kg), Manano-oligosaccharides (130 mg/kg), Chondroitin (70 mg/Kg), Yucca schidigera.
ANALYTICAL CONSTITUENTS: Crude protein 25.00%, Crude oils and fats 16.00%, Fatty acids omega 3: 0.40%, Fatty acids omega 6: 3.60%, EPA + DHA 920 mg/kg, Crude fibres 3.25%, Crude ash 8.00%, Calcium 1.35%, Phosphorous 1.05%.
ADDITIVES: Vitamin A 18,000 IU/Kg. Vitamin D3 1,800 IU/kg. Vitamin E 250 mg/kg. Vitamin C 100 mg/kg. Iron (ferrous sulphate monohydrate) 68 mg/kg. Iodine (Potassium iodide) 3.2 mg/kg. Copper (Cupric sulphate pentahydrate) 9 mg/kg. Manganese (manganous sulphate monohydrate) 6.8 mg/kg. Zinc (zinc oxide) 135 mg/kg. Selenium (sodium selenite) 0.1 mg/kg. Taurine 270 mg/kg. L-carnitine 70 mg/Kg.
TECHNOLOGICAL: Antioxidants: natural extracts rich in tocopherols.
Beneficios
Digestive Health System
El efecto prebiótico del FOS, estimula la flora bacteriana beneficiosa del sistema digestivo (efecto bífidus). Los MOS eliminan la flora perjudicial, logrando una mejor salud digestiva.
Cardiovascular & Visual Health
La presencia de Taurina estimula la contracción cardiaca y ayuda a prevenir cardiopatías. La luteína consigue un perfecto desarrollo de la función visual, su efecto antioxidante protege la retina.
Intestinal Protection
La acción protectora de la L-glutamina sobre las células de la mucosa intestinal, unida a la acción estimulante de la producción de enzimas digestivas del jengibre facilitan de una manera extraordinaria la digestión de los nutrientes.
Bone and Joint Extra Protection
El efecto protector de cartílagos de la Coindritina + Glucosamina se combinan con el efecto anti-inflamatorio de los ácidos grasos ω3 y ω6,p rotegiendo las articulaciones y evitando su desgaste.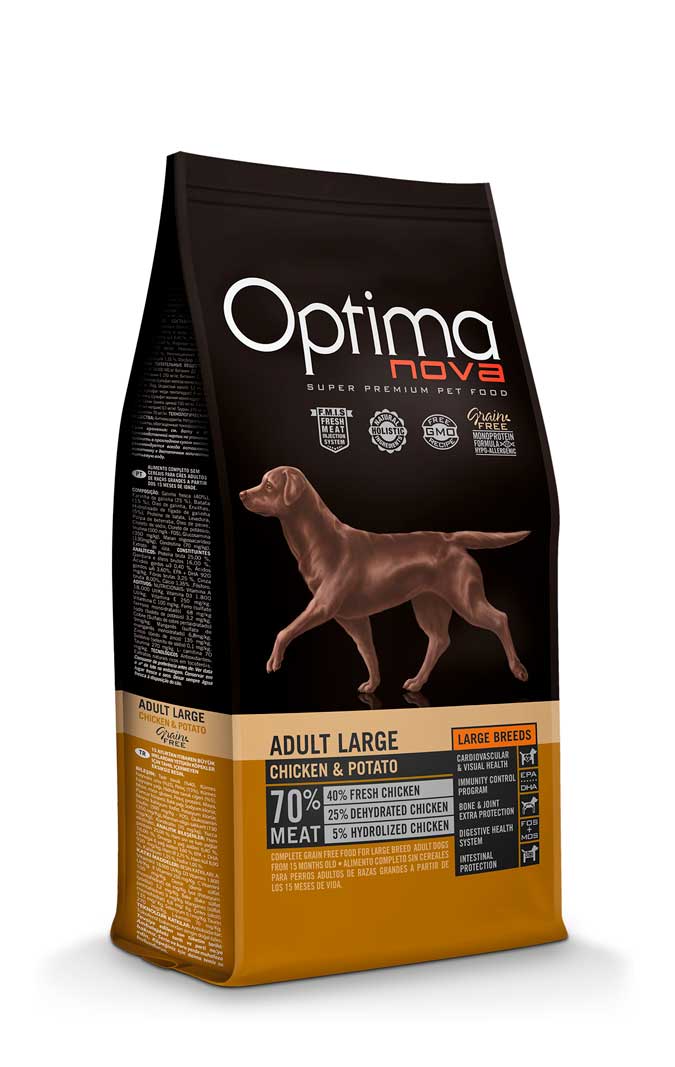 Adult Large
Chicken & Potato
Racionamiento
Adult Large
Chicken & Potato
Selecciona el peso de tu mascota:
Cantidad diaria recomendada:
Cantidad diaria recomendada:

{amount}

(g/día)
(g/día)
COMPARATIVA
Principales Beneficios

Adult Large

Chicken & Potato