ADULT GIANT - CHICKEN & RICE
Optimanova Adult Giant Chicken & Rice contains high quality meat chicken, covering the nutritional need of all dogs over 45 kg. This will allow your dog to maintain an appropiate body weight, preventing problems related to obesity. The ideal content of fatty acidswill keep cartilage and joints in perfect condition and vitamin D will regulate the levels of minerals in the blood to keep bones healthy and strong.
COMPOSITION: Fresh chicken (35%), Dehydrated Chicken (25%), Rice (15%), Oils and fats, Hydrolised chicken liver (5%), Rice protein, Yeast, Beet pulp, Sodium chloride, Monocalcium phosphate, Potassium chloride, Inulin (500 mg/kg-FOS), Glucosamine (500 mg/kg), Mannan-oligosaccharides (130 mg/kg), Condroitin (100 mg/kg), Yucca schidigera.
ANALYTICAL CONSTITUENTS: Crude protein 27,00%, Crude oils and fats 18,00%, Omega 3 fatty acids: 0,45%, Omega 6 fatty acids: 3,90%, EPA + DHA 960 mg/kg, Crude fibres 2,50%, Crude Ash 8,00%, Calcium 1,60%, Phosphorus 1,30%.
ADDITIVES: Vitamin A 18.000 IU/kg. Vitamin D3 1.800 IU/kg. Vitamin E 200 mg/kg. Vitamin C 50 mg/kg. Iron (Ferrous sulphate, monohydrate) 68 mg/kg. Iodine (Potassium iodide) 3,2 mg/kg. Copper (Cupric sulphate, pentahydrate) 9 mg/kg. Manganese (Manganous sulphate, monohydrate) 6,8 mg/kg. Zinc (zinc oxide) 135 mg/kg. Selenium (Sodium selenite) 0.14 mg/kg. Taurine 270 mg/kg. L- carnitine 30 mg/kg.
TECHNOLOGICAL: Antioxidants: natural extracts rich in tocopherols.
Beneficios
Digestive Health System
El efecto prebiótico del FOS, estimula la flora bacteriana beneficiosa del sistema digestivo (efecto bífidus). Los MOS eliminan la flora perjudicial, logrando una mejor salud digestiva.
Joint Protection
El efecto anti-inflamatorio de los ácidos grasos ω 3 y ω 6, protege las articulaciones y retrasa su desgaste. El aporte adicional de glucosamina y condroitina mantiene una correcta lubricación articular.
Bone Protection
Se intensifica la formación y mineralización ósea gracias al contenido de vitamina D que regula los niveles de minerales en la sangre, promoviendo su absorción, transporte y depósito en los huesos.
Optimal Caloric Balance
La equilibrada relación entre proteínas, grasas e hidratos de carbono evitan el sobrepeso.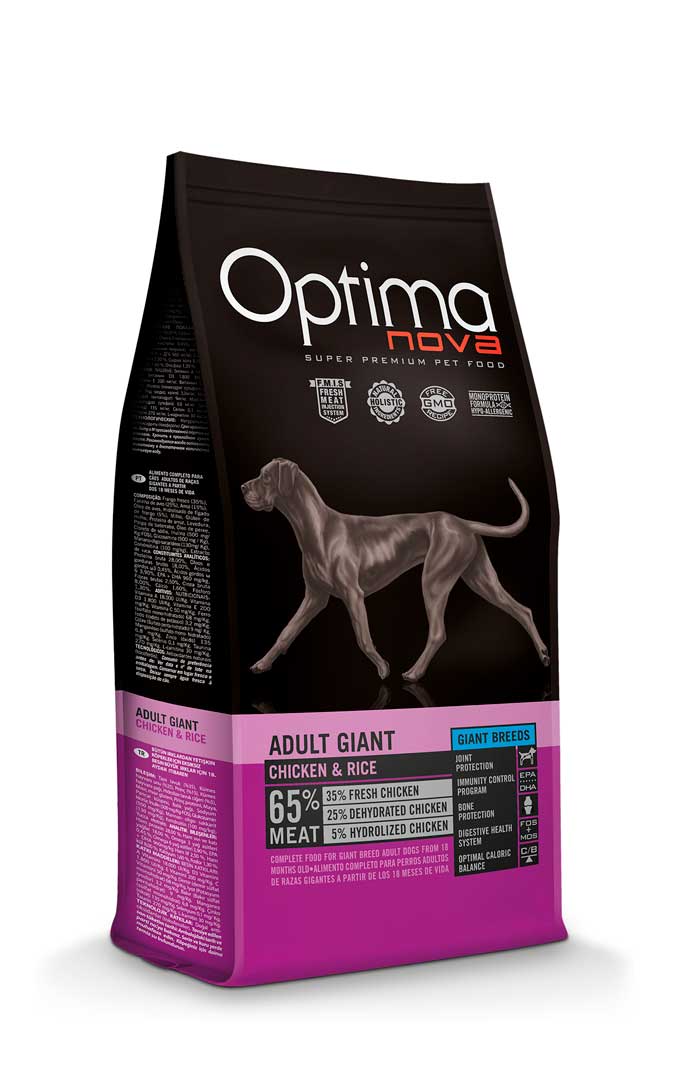 Adult Giant
Chicken & Rice
Racionamiento
Adult Giant
Chicken & Rice
Selecciona el peso de tu mascota:
Cantidad diaria recomendada:
Cantidad diaria recomendada:

{amount}

(g/día)
(g/día)
COMPARATIVA
Principales Beneficios

Adult Giant

Chicken & Rice