ADULT DIGESTIVE - RABBIT & POTATO
Optimanova Adult Digestive Rabbit & Potato is the only product on the market in this category made from fresh rabbit meat. Easy to digest, tasty and low in calories, cholesterol and fats, it also contains important minerals such as iron, magnesium and zinc. Its Omega-3 helps to keep his skin healthy and his coat shiny. It's perfect for any breed. Especially for those with sensitive stomachs.
COMPOSITION: Fresh rabbit meat (40%), Dehydrated Rabbit meat (25%), Potato (20%), Potato protein, Hydrolised rabbit meat (5%), Oils and fats, Beet pulp, Yeast, Sodium chloride, Sodium polyphosphate (0.3%), Potassium chloride, Inulin (FOS 1.000 mg/Kg), Ginger (1000 mg/Kg), Mannan-oligosaccharides (260 mg/Kg), Yucca schidigera.
ANALYTICAL CONSTITUENTS:Crude protein 27,00%, Crude oil and fats 16,00%, EPA + DHA 400 mg/kg, Crude fibres 2,50%, Crude Ash 7,00%, Calcium 1,10%, Phosphorus 0,80%.
ADDITIVES:Vitamin A 18.000 IU/kg. Vitamin D3 1.800 IU/kg. Vitamin E 250 mg/kg. Vitamin C 100 mg/kg. Biotine 4,0 mg/kg. Iron (Ferrous sulphate, monohydrate) 83 mg/kg. Iodine (Potassium iodide) 3,9 mg/kg. Copper (Cupric sulphate, pentahydrate) 11 mg/kg. Manganese (Manganous sulphate, mono- hydrate) 8,3 mg/kg. Zinc (zinc oxide) 165 mg/kg. Selenium (sodium selenite) 0,17 mg/kg. L-carnitine 70 mg/kg. Taurine 30 mg/kg.
TECHNOLOGICAL:Antioxidants: natural extracts rich in tocopherols.
Beneficios
High Digestibility
The high digestibility of the nutrients allows maximum absorbtion, making the most of their nutritional elements and stimulating intestinal health.
Oralcare
The configuration of dietetic fiber combined with minerals (calcium/phosphorus) produces a "tooth brush effect" in the teeth. It reduces the bacterian plaque acumulation that produces the bad breath.
Gastric Protection
The special mix of the ingredients, result in a fast digestion of the food with minimal wear of the stomach.
Prebiotic Effect
The inclusion of ingredients with pre-biotic action (FOS-MOS, resistant starch) stimulates the digestive bacteria profileration that improves the intestinal health (bifidus effect).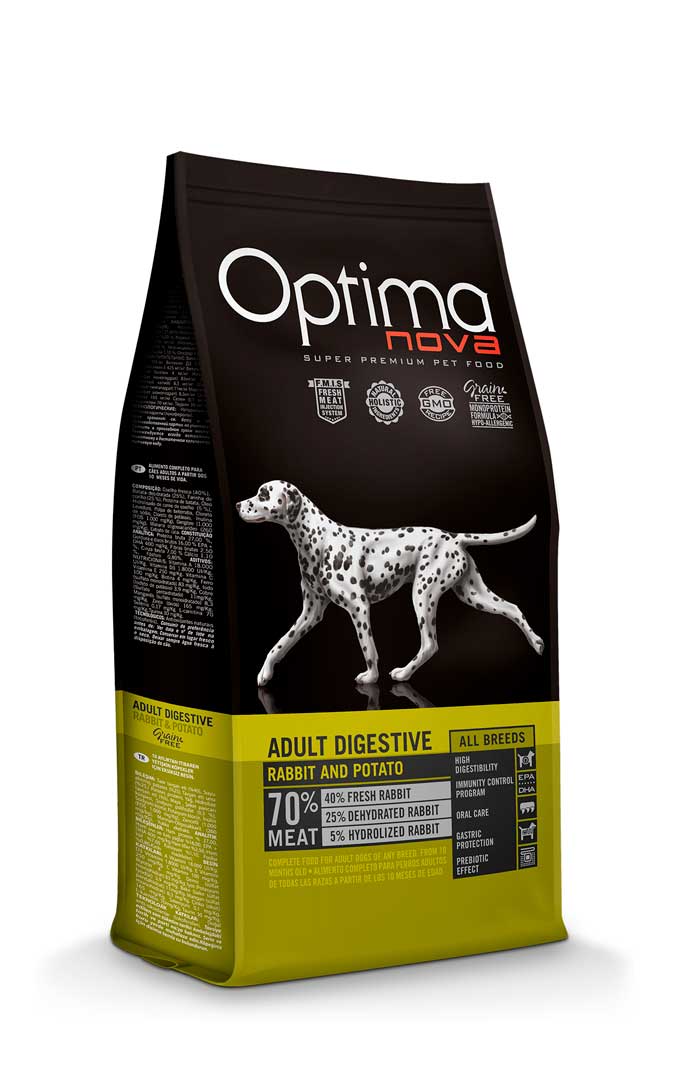 Adult Digestive
Rabbit & Potato
Racionamiento
Adult Digestive
Rabbit & Potato
Selecciona el peso de tu mascota:
Cantidad diaria recomendada:
Cantidad diaria recomendada:

{amount}

(g/día)
(g/día)
COMPARATIVA
Principales Beneficios

Adult Digestive

Rabbit & Potato