ADULT ACTIVE - CHICKEN & RICE
Optimanova Active Adult Chicken & Rice covers the nutritional needs of your dog without surpass. Its high percentage of protein and fat is ideal for pets who spend time outdoors. It also contains L-carnitine, which increases energy production by activating the oxidation of fatty acids.
COMPOSITION:Fresh chicken (35%), Dehydrated Chicken (25%), Rice (15%), Hydrolysed chicken liver (5%), Oils and fats, Rice protein, Yeast, Beet pulp, Sodium chloride, Potassium chloride, Inulin (500 mg/kg - FOS), Manan-oligosaccharides (130 mg/kg), Yucca schidigera.
ANALYTICAL CONSTITUENTS:Crude protein 32,00 %, Crude oils and fats 22,00%, EPA + DHA 400 mg/kg, Crude fibres 2,00%, Crude Ash 8,00%, Calcium 1,25%, Phosphorus 1,00%.
ADDITIVES:Vitamin A 18.000 IU/kg. Vitamin D3 1.800 IU/kg. Vitamin E 500 mg/kg. Vitamin C 200 mg/kg. Biotin 3,4 mg/kg. Iron (ferrous sulfate monohydrate) 68 mg/kg. Iodine (potassium iodide) 3,2 mg/kg. Copper (cupric sulfate pentahydrate) 9 mg/kg. Manganese (sulfate monohydrate) 6,8 mg/kg. Zinc (zinc oxide) 135 mg/kg. Selenium (sodium selenite) 0,1 mg/kg. L-carnitine 170 mg/kg. Taurine 100 mg/kg.
TECHNOLOGICAL:Antioxidantes: Antioxidants: natural extracts rich in tocopherols (350 mg/kg).
Beneficios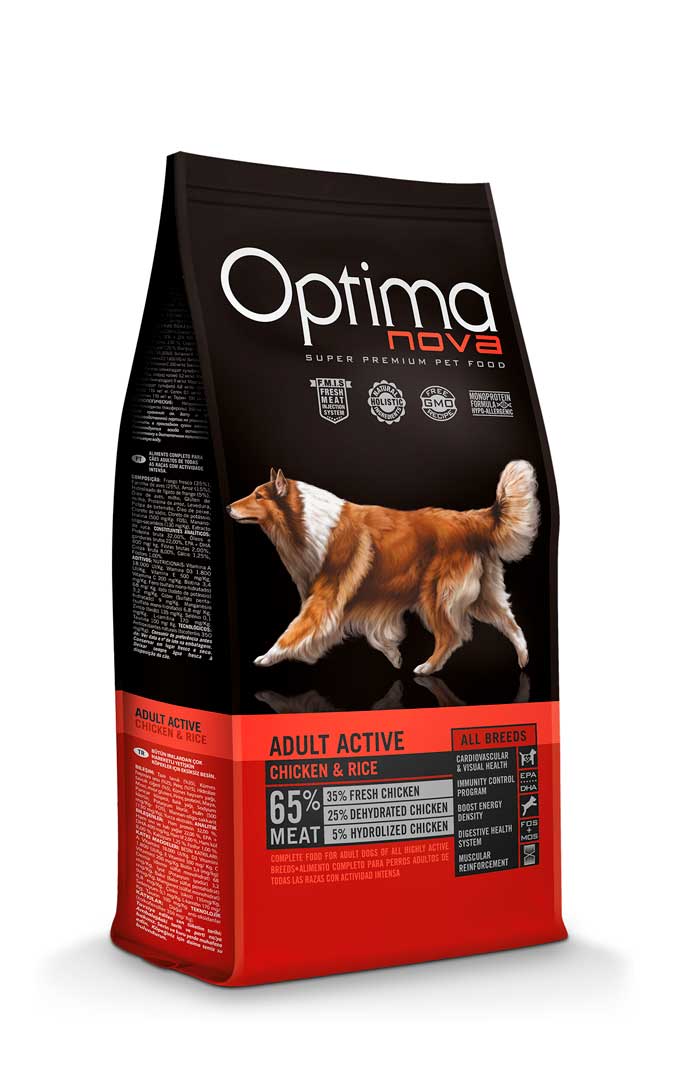 Adult Active
Chicken & Rice
Racionamiento
Adult Active
Chicken & Rice
Selecciona el peso de tu mascota:
Cantidad diaria recomendada:
Cantidad diaria recomendada:

{amount}

(g/día)
(g/día)
COMPARATIVA
Principales Beneficios

Adult Active

Chicken & Rice